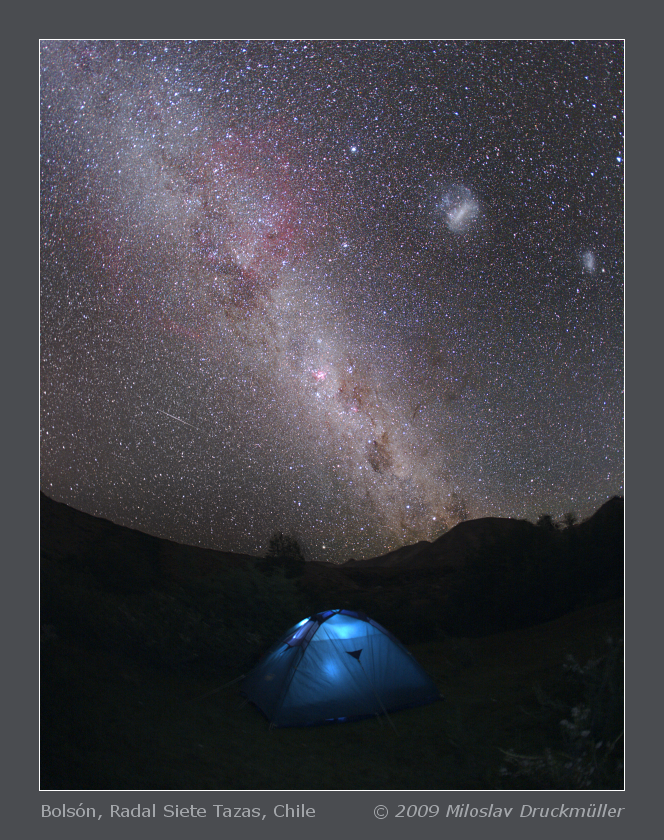 Starry night at Bolsón plateau
This image enshrines the breathtaking impression of a starry night in the Andes far from civilization under the black southern sky. The civilization deprived us of the sensation of being a part of the universe. The image was taken in Bolsón in Valle Indios in NP Radal Siete Tazas (Chile) during the two-member (me and my wife Zuzana) mountaineering expedition.

Click on the image or on the following reference to display the higher resolution image version (2.3 MB, PNG format).
| | |
| --- | --- |
| Image | IMG_3419-32.png |
| Date | 18. 01. 2009 |
| Time | 23:22 - 23:32 local time |
| Place | Bolsón, Chile |
| Coordinate | S 35° 29.778', W 70° 54.264', Alt. 1674 m |
| Optics | Canon Fisheye lens EF 15mm 1:2.8 |
| Camera | Canon EOS 5D (Hutech Ia modification) |
| Exposure | 24× 30 s (ISO 3200) |
| Copyright | © 2009 Miloslav Druckmüller |
---
Miloslav Druckmüller
Institute of Mathematics, Faculty of Mechanical Engineering
Brno University of Technology, Czech Republic
druckmuller@fme.vutbr.cz
Page last update: 20.2.2010