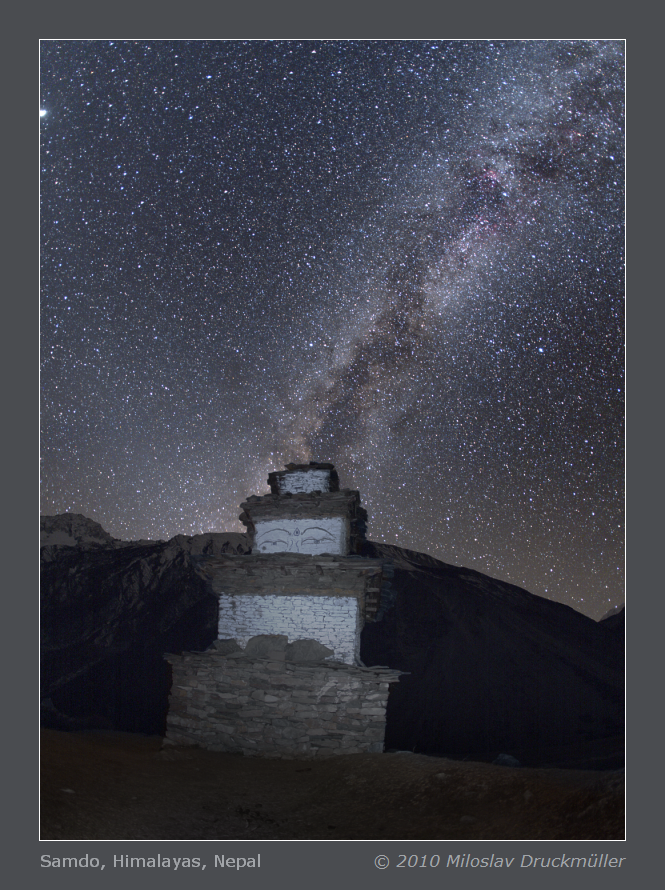 Milky Way over Samdo village gate
This gorgeous Himalayan nocturnal scenery was possible to enjoy near the entrance to Samdo village during the Manaslu trek. The bright object just on the left edge of the image is Jupiter and the faint glow left from the gate stretching in the direction to the Jupiter is the zodiacal light.

Click on the image or on the following reference to display the higher resolution image version (1.7 MB, PNG format).
| | |
| --- | --- |
| Image | NMG_0396-01.png |
| Date | 28. 10. 2010 |
| Time | 18:20 - 18:26 local time |
| Place | Samdo, Himalayas, Nepal |
| Coordinate | N 28° 38.98', E 84° 37.98', alt. 3867 m. |
| Optics | Canon Fisheye lens EF 15mm 1:2.8 |
| Camera | Canon EOS 5D (Hutech Ia modification) |
| Exposure | 9× 30 s (ISO 3200) |
| Copyright | © 2010 Miloslav Druckmüller |
---
Miloslav Druckmüller
Institute of Mathematics, Faculty of Mechanical Engineering
Brno University of Technology, Czech Republic
druckmuller@fme.vutbr.cz
Page last update: 27.1.2013