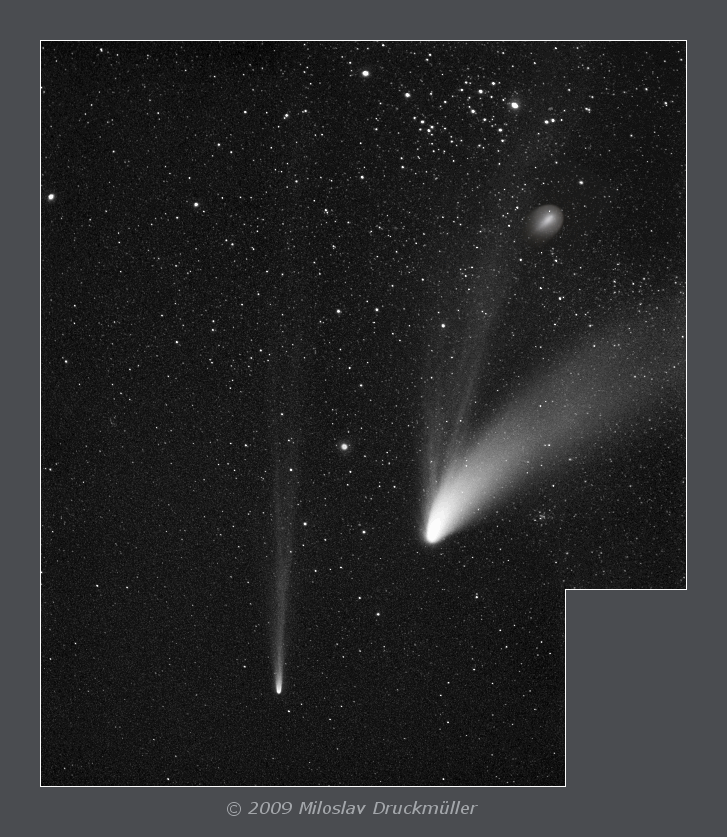 Comet Hyakutake on April 17, 1996
Comet Hale - Bopp on April 8, 1997
Comet Holmes on December 9, 2007
This image is a successor of the image showing comets Hale - Bopp and Hyakuteke in the Perseus constellation. It is interesting that since March 1976 (comet West) all comets brighter than the third magnitude visible from the northern hemisphere were visible in this constellation. The only exception was the McNaught comet, which was visible only shortly and not very well from the northern hemisphere and which was a spectacular object on the southern hemisphere in 2007.
Image
Hb_hy_ho.png
Date
Comet Hyakutake : 17. 04. 1996
Comet Hale - Bopp : 08. 04. 1997
Comet Holmes : 09. 12. 2007
Time
Comet Hale - Bopp : 19:43-19:43.5, 19:45-19:48, 19:48-19:49.5 UT
Comet Hyakutake 19:35 - 19:38, 19:38 - 19:40, 19:41 - 19:45 UT
Comet Holmes : 00:15 - 00:25 UT
Optics
Comet Hyakutake : Pentacon 2.8/100 mm
Comet Hale - Bopp : Sonnar 3.5/135 mm
Comet Holmes : Tamron SP AF Di 2.8/90mm
Camera
Comet Holmes : Canon EOS 5D digital camera
Film
Comet Hyakutake : Fomapan T200 (Kodak T Max, 20 min, 22°C)
Comet Hale - Bopp : Ilford Delta 400 (Microphen, 14 min, 20°)
Copyright
© 2009 Miloslav Druckmüller
---
Miloslav Druckmüller
Institute of Mathematics, Faculty of Mechanical Engineering
Brno University of Technology, Czech Republic
druckmuller@fme.vutbr.cz
Page last update: 28.2.2009