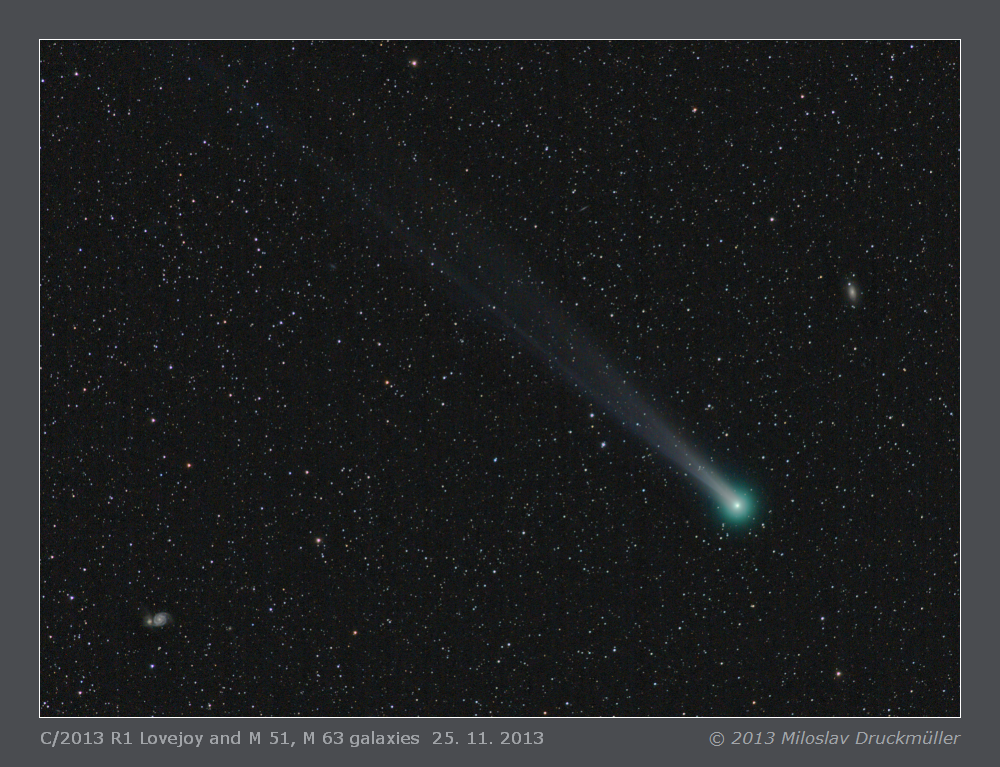 25. 11. 2013, 04:29 - 04:58 HST
This image shows the comet among several well known galaxies in Canes Venatici constellation. The most prominent is the Whirpool galaxy M 51 or more precisely the pair of galaxies M 51b (NGC 5195, left) and M 51a (NGC 5194, right). Ahother clearly visible galaxy is the Sunflower galaxy M 63 (NGC 5055). There are two more tiny edge-on galaxies NGC 5023 and UGC 8320 in this image.

Click on the image or on the following reference to display the higher resolution image version (2.9 MB, PNG format).
| | |
| --- | --- |
| Image | 2013_11_25_200mm.png |
| Date | 25. 11. 2013 |
| Time | 04:29 - 04:58 HST |
| Place | Haleakala NP, Maui, Hawaii |
| Coordinate | N 20.736855°, W 156.233917° |
| Conditions | Excellent clear sky, strong wind, Moon |
| Optics | Canon EF 200mm 1:2.8 L II |
| Camera | Canon EOS 5D Mark II |
| Exposure | 45 × 30 s, ISO 3200 |
| Note | Comet position 04:43 HST |
| Copyright | © 2013 Miloslav Druckmüller |
---
Miloslav Druckmüller
Institute of Mathematics, Faculty of Mechanical Engineering
Brno University of Technology, Czech Republic
druckmuller@fme.vutbr.cz
Page last update: 10.1.2014