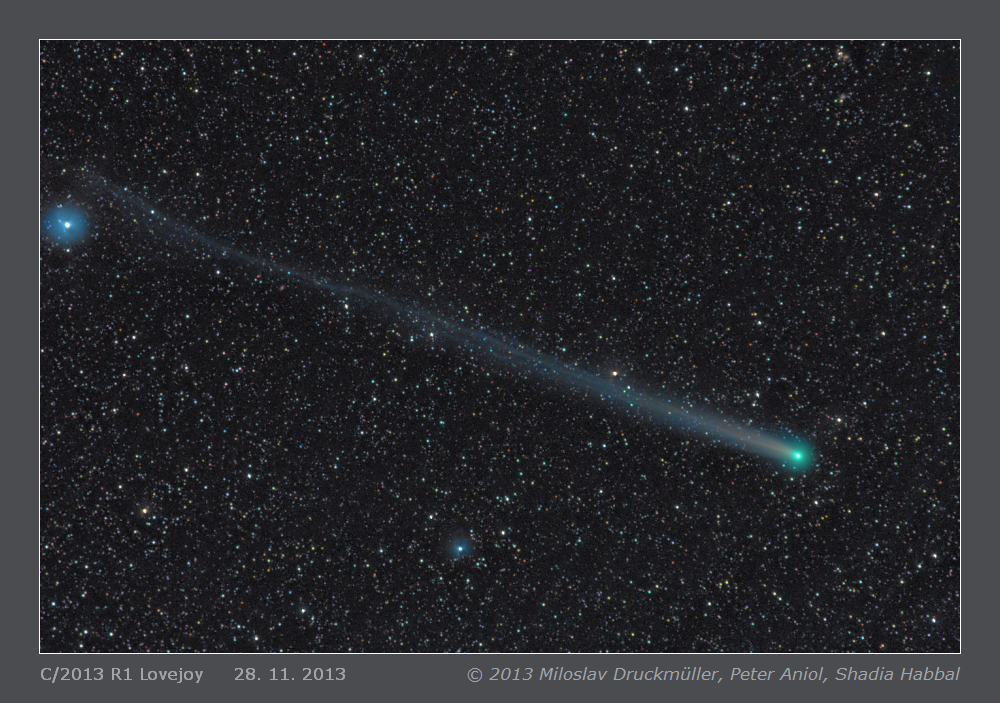 28. 11. 2013, 04:46 - 04:51 HST
This LRGB image is created from four 60 s exposures made with FLI 4240 Midband camera and colors are taken from six 60 s exposures made with Canon EOS 5D Mark II. Halos around the bright stars are caused by very faint cirrus clouds.

Click on the image or on the following reference to display the higher resolution image version (2.7 MB, PNG format).
Image
2013_11_28_fli135-200mm.png
Date
28. 11. 2013
Time
04:46 - 04:51 HST
Place
Mees Observatory, Haleakala, Maui, Hawaii
Coordinate
N 20° 42' 23.6", W 156° 15' 23.7" , Alt. 3069 m
Conditions
Bad - low position in the sky, some cirrus clouds, Moon
Optics
(1) Zeiss Apo Sonnar T* 2/135mm (set to F 2.8)
(2) Canon EF 200mm 1:2.8 L II
Camera
(1) FLI 4240 Midband, Baader IR/UV cut filter
(2) Canon EOS 5D Mark II
Exposure
(1) 4 × 60 s
(2) 6 × 60 s, ISO 3200
Copyright
© 2013 Miloslav Druckmüller, Peter Aniol, Shadia Habbal
---
Miloslav Druckmüller
Institute of Mathematics, Faculty of Mechanical Engineering
Brno University of Technology, Czech Republic
druckmuller@fme.vutbr.cz
Page last update: 17.1.2014