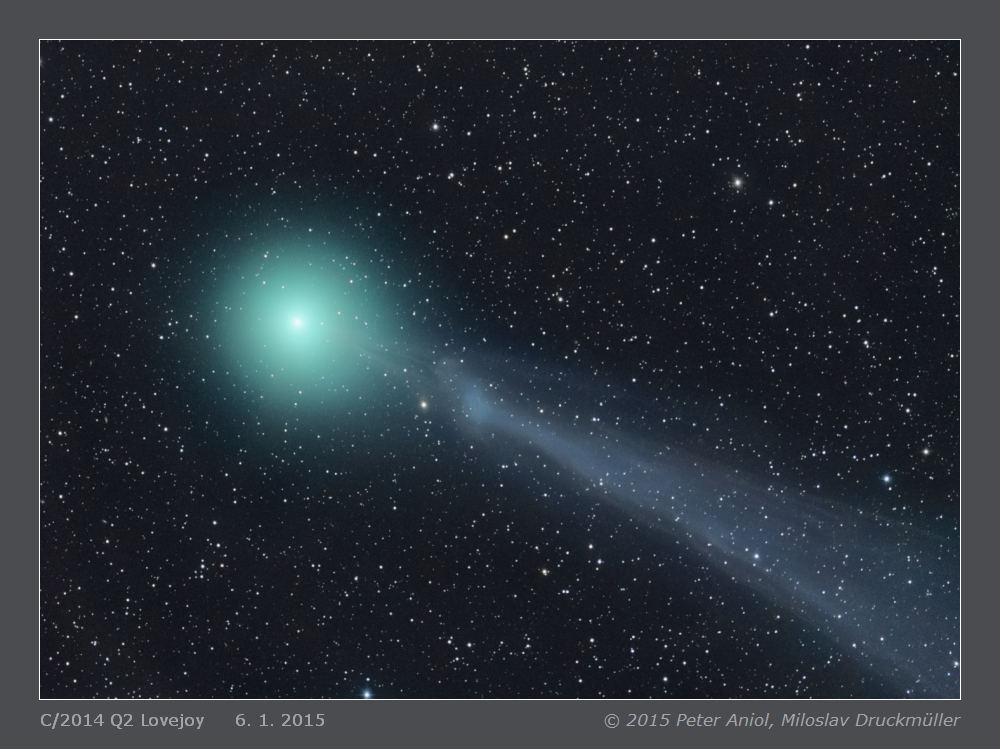 6. 1. 2015, 20:40 - 20:53 UT
This image shows a disconnection in the plasma tail of C/2014 Q2 Lovejoy comet. The comet was 1.34 AU far from the Sun but only 0.47 AU far from the Earth - close to the nearest point. The movement of the comet in the sky was very fast - 7.6 arcsec/min. The change of comet's plasma tail during 2 hours is shown this pair of images.

Click on the image or on the following reference to display the higher resolution image version (2.0 MB, PNG format).
| | |
| --- | --- |
| Image | 2015_01_06-ad.png |
| Date | 6. 1. 2015 |
| Time | 20:40 - 20:53 UT |
| Place | Montlaux, Southern France |
| Coordinate | N 44° 02' 41.91", E 5° 50' 50.36", altitude 580 m |
| Conditions | Clear sky |
| Optics | Celestron 11" f/2,22 RASA Rowe-Ackermann Schmidt Astrograph, F=620mm |
| Camera | Sony Alpha 7s |
| Exposure | 12 × 30 s, ISO 3200 |
| Processing | Miloslav Druckmüller |
| Copyright | © 2015 Peter Aniol, Miloslav Druckmüller |
---
Miloslav Druckmüller
Institute of Mathematics, Faculty of Mechanical Engineering
Brno University of Technology, Czech Republic
druckmuller@fme.vutbr.cz
Page last update: 19.2.2015