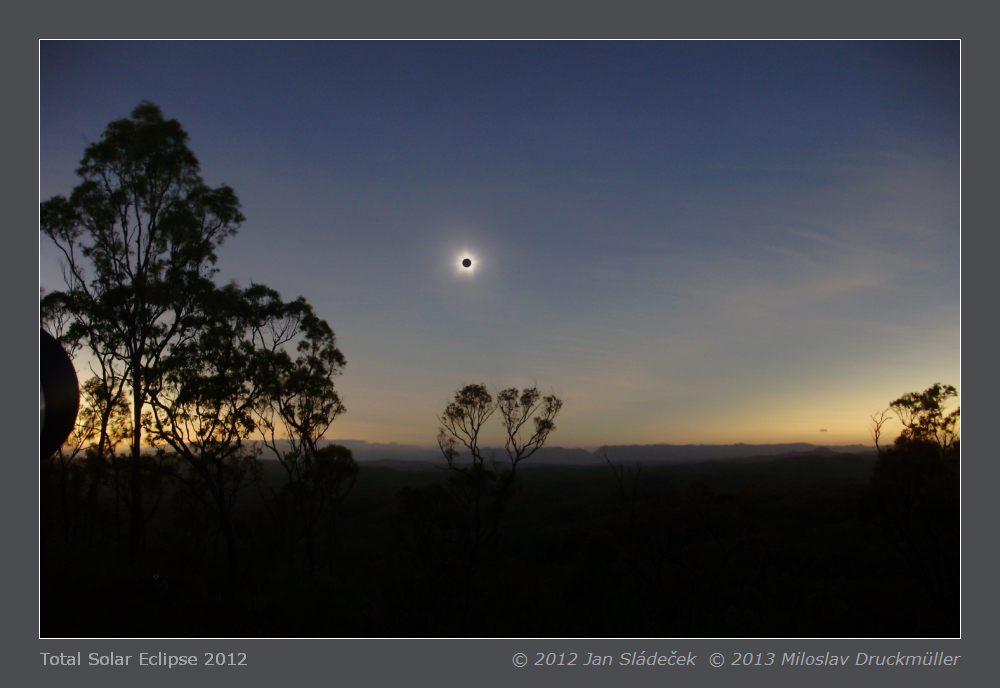 Total eclipse panorama
This beautiful eclipse panorama consists of two images taken by Jan Sládeček. The saturated part of the image was replaced by this wide angle image aligned with the panorama.

Click on the image or on the following reference to display the higher resolution image version (345 KB, JPEG format).
Image
Tse2012_pan_js.png
Date
13. 11. 2012, (14. 11. 2012 local time)
Time
2nd contact 20:37:38 UT, 3rd contact 20:39:41 UT
Total eclipse duration 2 min 3 s
Place
Queensland, Australia
Coordinate
S 16° 09' 30.5'', E 144° 31' 49.4'', Alt. 570 m
Conditions
very faint high clouds
Camera
Olympus FE 310
Exposure
1/2 s
Processing
Image processing Jan Sládeček and Miloslav Druckmüller
Note
Panorama of two images
Copyright
© 2012 Jan Sládeček, © 2013 Miloslav Druckmüller
---

Miloslav Druckmüller
Institute of Mathematics, Faculty of Mechanical Engineering
Brno University of Technology, Czech Republic
druckmuller@fme.vutbr.cz
Page last update: 27.11.2019