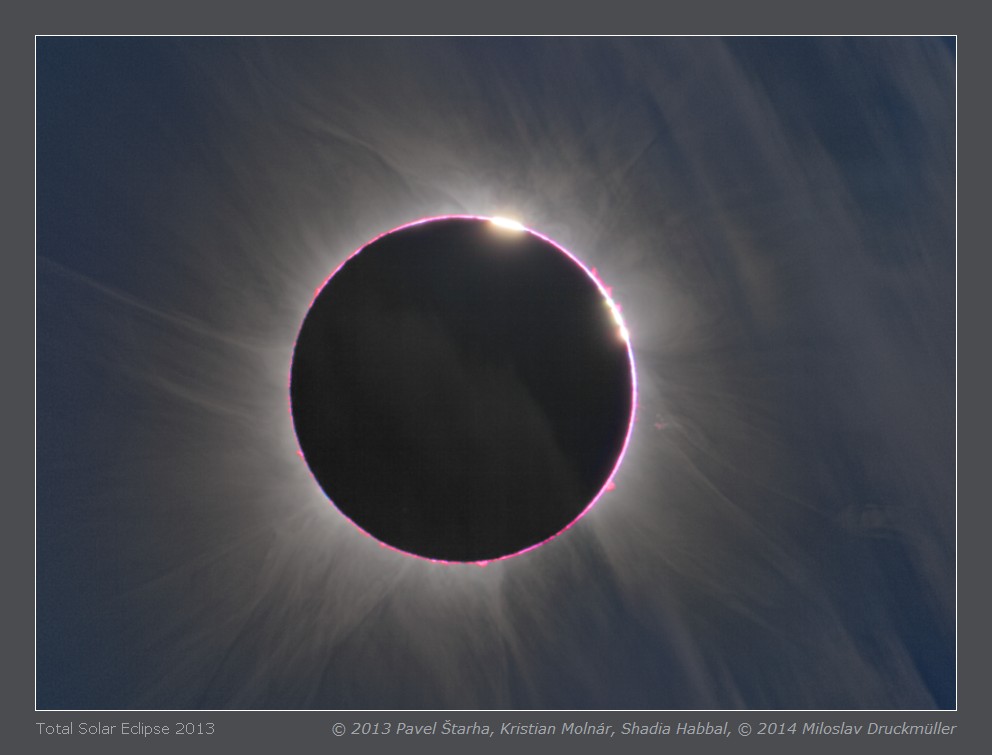 Baily's beads 3 seconds before C2
Single one image of Baily's beads was used for the brightest part of this image. The lower light intensity the more images were used. Total number of used images is 52. Clouds are motion-blurred because the images are aligned on solar corona.

Click on the image or on the following reference to display the higher resolution image version (748 KB, PNG format).
Image
Tse_2013_bp-10.jpg
Date
3. 11. 2013
Time
2nd contact 14:24:46 UT, total eclipse duration 10 s (measured)
Place
Kenya
Coordinate
N 3° 29' 42.07", E 35° 26' 46.72", Alt. 565 m
Conditions
Partially cloudy
Optics
(1) MTO 10/1000 mm
(2) 3M-5CA 8/500 mm
(3) 3M-65CA 6.3/500 mm
Camera
(1,2,3) Canon EOS 5D Mark II (ISO 100)
Exposure
(1) 1/250 s, 1/60 s,1/15 s
(2) 1/45 s, 1/15 s, 1/6 s
(3) 1/4 s, 1/1.4 s, 2 s
Processing
Composition of 52 eclipse images - 24 images (1), 22 images (2), 6 images (3). Digital eclipse images were calibrated by means of large number of dark frames and flat-fields, aligned by means of phase correlation, composed by means of LDIC 5.0 software, processed using Corona 4.1 in order to visualize coronal structures. Final processing was done using ACC 6.1 software.
Image processing by Miloslav Druckmüller
Software
Astro D3F 2.0, PhaseCorr 6.0, LDIC 6.0, Corona 4.1, Sofo ACC 6.1
Copyright
© 2013 Pavel Štarha, Kristián Molnár, Shadia Habbal © 2014 Miloslav Druckmüller
---

Miloslav Druckmüller
Institute of Mathematics, Faculty of Mechanical Engineering
Brno University of Technology, Czech Republic
druckmuller@fme.vutbr.cz
Page last update: 27.11.2019