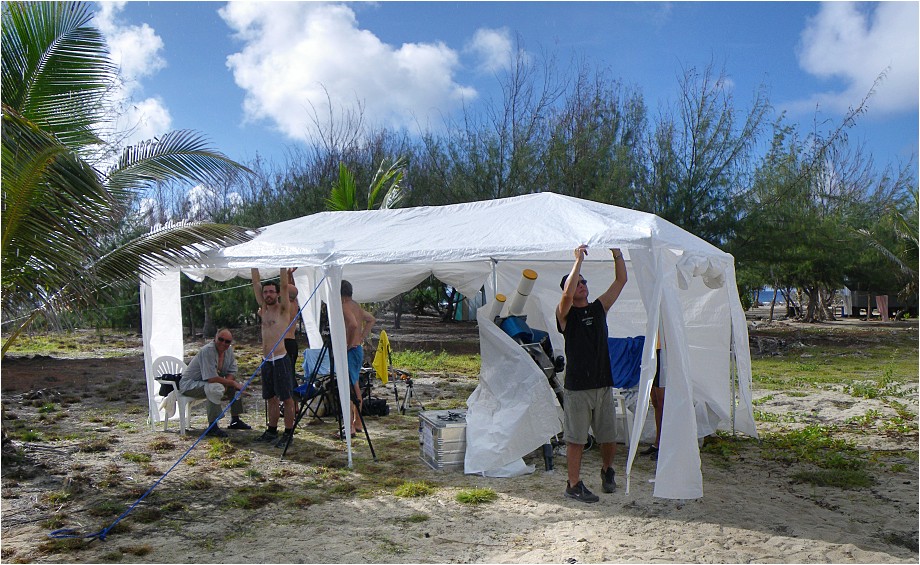 Our observing place behind Enewetak Radiological Observatory
---
Equipment used for eclipse observation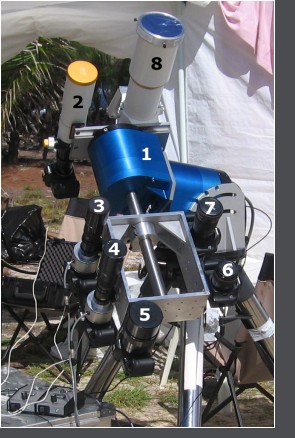 (1) Heavy, extremely high precision paralactic mount Astelco NTM brought and operated by Peter Aniol.

(2) William Optics Megrez 88 Doublet FD + Baader Flat-field FFC, EFL 965mm with Canon EOS 5D camera.

(3,4) Two 8/500 mm lenses and Canon EOS 5D cameras equipped with two extremely narrow-band filters - bandwidth 0.15 nm. The first filter maximum transmission centered on Fe XIV emission image 530.3 nm. The second filter maximum transmission centered off-line on 529.1 nm. Both used filters were stabilized at temperature of 45.0°C.

(5) Maksutov-Cassegrain 3M-6A, 6.3/500 mm with Canon EOS 5D

(6) Canon EF 100 nn 1:2 lens with Canon EOS 5D

(7) Canon EF 200mm 1:2.8 L II lens with modified Canon EOS 5D (Hutech Ia)

(8) William Optics Fluorostar triplet F=7.0 + adapter, EFL 2000mm with Phase One P45+ digital camera.

All cameras except for (8) were computer controlled by means of 3 computers. The Linux software Multican created by Jindřich Nový was used for cameras control. The camera (8) was manually controlled by Peter Aniol.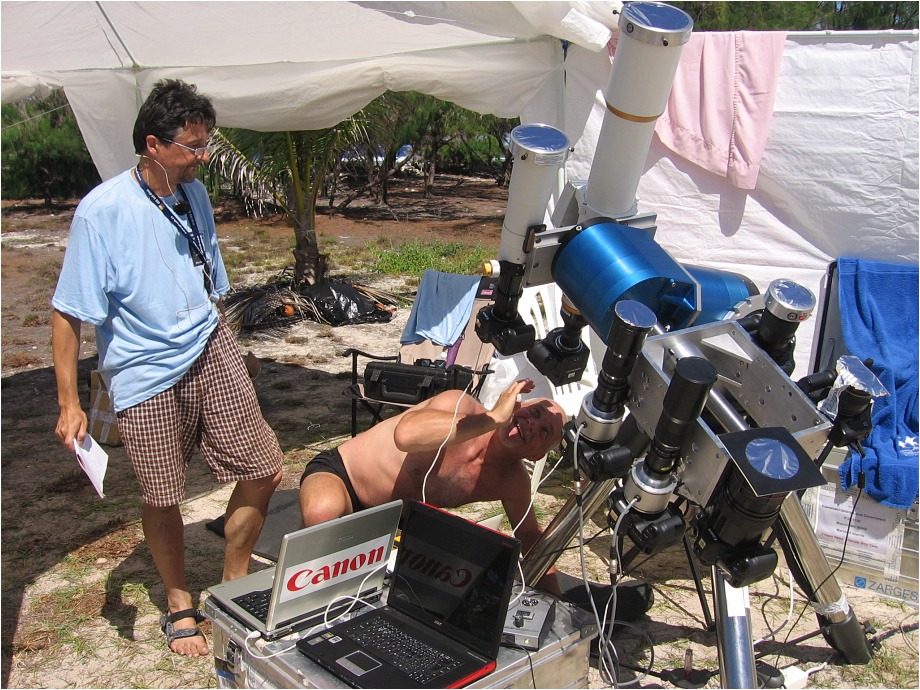 10 minutes before the second contact
Shadow-tracking Expedition members, Enewetak 2009
Top from the left to the right: Vojtech Rušin (Slovakia), Martin Dietzel (Germany), Cornelia Firsching (Germany), Miloslav Druckmüller (Czech Republic), Ľubomír Klocok (Slovakia), Karel Martišek (Czech Republic). Bottom: Peter Aniol (Germany).
---

Miloslav Druckmüller
Institute of Mathematics, Faculty of Mechanical Engineering
Brno University of Technology, Czech Republic
druckmuller@fme.vutbr.cz