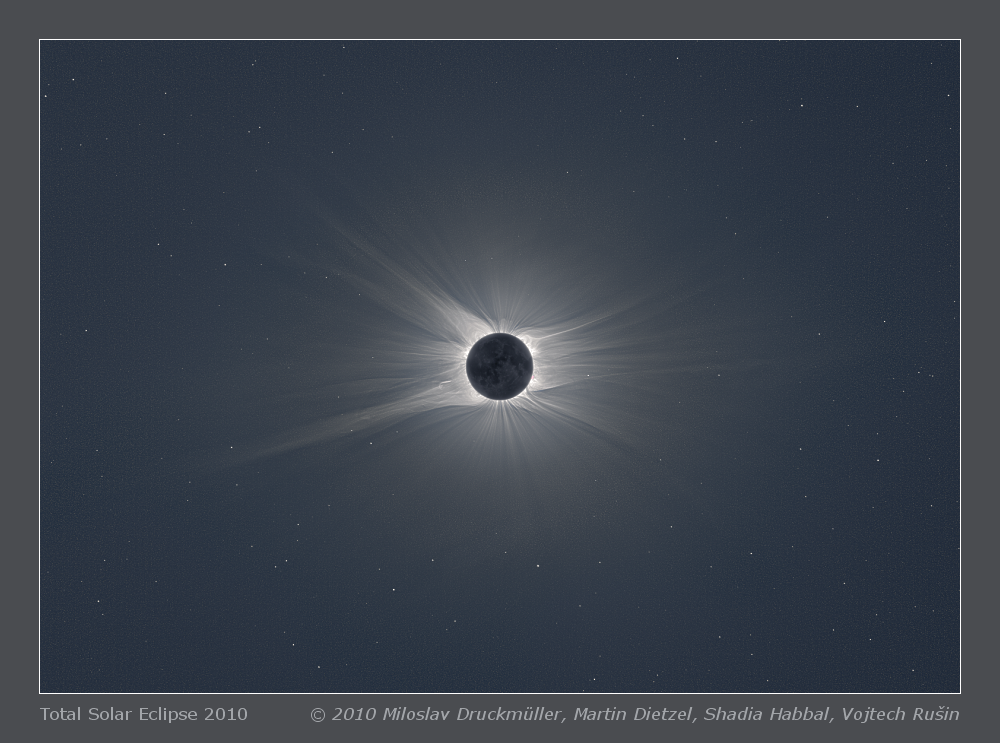 Corona up to 12 solar radii
The image shows the extend and shape of the solar corona just after the end of unusually long and deep solar activity mininum.


This image was made from data obtained by means of three different Canon EOS 5D cameras. The first one was equipped with Canon 2.8/200 mm, the second one with Maksutov-Cassegrain 3M-6A 6.3/500 mm and the third one with GSO Ritchey-Chrétien 8/1624 mm. All cameras were computer controlled by means of Linux Fedora Multican program made by Jindřich Nový. The equipment was placed on a massive ultra-precise Astelco NTM 500 mount. During the totality 69 (200 mm), 64 (500 mm) and 89 (1640 mm) images were taken with the mentioned cameras. Unfortunately the sky was not clear during the whole totality, it was necessary to remove all images significantly influenced by clouds. The wider was the field of view the lower was the number of usable images. Finally only four images made with 200 mm were chosen. 23 (500 mm) and 61 (1640 mm) images were chosen from longer focal length lens images. These images were calibrated by means of over 1000 dark frames and flat-field images. The resulting image showing the solar corona up to the distance over 12 solar radii is much better than I had expected after the eclipse. The position of the Moon represents the situation 157 seconds after the second contact. It is possible to identify about 500 stars down to magnitude 9.5 in the image. You may compare the image on this page and the image with star map overlay. The limiting magnitude of the star map is 10. Worth mentioning is the quality of optics, excellent focussing made by Martin Dietzel through the camera viewfinder (Canon EOS 5D has no live-view) and fantastic precision of Astelco NTM 500 mount tracking (200 mm and 500 mm lens sets of images were not mathematically aligned).

Click on the image or on the following reference to display the higher resolution image version (4.0 MB, PNG format).
Image
Tse2010t_200mm_1.png
Date
11. 07. 2010
Time
2nd contact 18:45:36 UT, 3rd contact 18:50:05 UT
Total eclipse duration 4 m 29 s
Place
Tatakoto Atoll, French Polynesia
Coordinate
S 17° 20' 39.3'', W 138° 27' 3.1'', Alt. 6 m
Conditions
Partially clear, partially thin clouds
Optics
(1) Canon EF 200mm 1:2.8 L II
(2) Maksutov-Cassegrain 3M-6A, 6.3/500 mm
(3) GSO RC 8'', Ritchey-Chrétien f/8, 203 mm/1624 mm
Camera
(1) Canon EOS 5D (Hutech Ia modification) (ISO 100)
(2,3) Canon EOS 5D digital camera (ISO 100)
Exposure
(1) 4 s and 2 s
(2) 1/250 s - 8 s
(3) 1/500 s - 2 s
Processing
Composition of 88 eclipse images (4 (1), 23 (2), 61 (3)). Eclipse images calibrated by means of dark frames and flat-fields, aligned by means of phase correlation, composed by means of LDIC 5.0 software, processed using Corona 4.1 in order to visualize coronal structures. Final processing was done using ACC 6.1 software.
Image processing by Miloslav Druckmüller
Software
Astro D3F 2.0, PhaseCorr 6.0, MPA 1.0, LDIC 5.0, Corona 4.1, Sofo ACC 6.1
Note
The graph above the table shows the average values of the relative number of sunspots in which the red line indicates the time of 2010 eclipse. The data from the World Data Center for the sunspot index, (Solar Influences Data Analysis Center, the Royal Observatory of Belgium) were used.
Orientation
Image must be rotated 1.6° anti-clockwise to achieve standard orientation i.e. solar north up.
Copyright
© 2010 Miloslav Druckmüller, Martin Dietzel, Shadia Habbal, Vojtech Rušin
---
Miloslav Druckmüller
Institute of Mathematics, Faculty of Mechanical Engineering
Brno University of Technology, Czech Republic
druckmuller@fme.vutbr.cz
Page last update: 1.8.2014